DISCOGRAPHY
---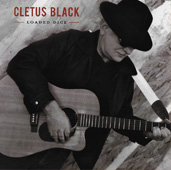 Loaded Dice
2016
$12 (shipping included)

1. Loaded Dice
2. Steal Your Love
3. Legs Like Diamonds
4. Will You be Mine
5. She's Tight on Me
6. Ring Me Up
7. Pawnbroker Girl
8. Big Stogie
9. My Heart Is Broken
10. One Day Late
11. I'm Playing it Easy
12. Rolla Coaster #2
13. You Oughta Love Me
---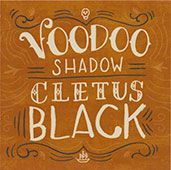 Voodoo Shadow
2013
$12 (shipping included)
1. Intro
2. Santa Rosa
3. Who Got The Monkey?
4. The Rabbit Runs The Road
5. African Shoreline
6. Bayou Brew
7. By And By
8. Flowing Red
9. All About You
10. Mystery Ride
11. Femme Fatale
12. Shiver In The Night
13. Laundramatic
14. Voodoo Shadow
JEFF NIESEL, SCENE MAGAZINE
"Everyday is Friday," singer-guitarist Cletus Black bellows on the intro to this, his latest studio album. And that opening salvo sets the tone for the following 13 songs. A song like "Santa Rosa" swings a bit more than Black tunes of the past and the newfound swagger suits this veteran bluesman well. "Who Got the Monkey" has a bit of a zydeco flavor to it and sounds like Springsteen and the E Street band doing a Southern standard. "African Shoreline" has a bit of a Hendrix feel to it and "Femme Fatale" adopts a rockabilly vibe and sounds a bit like the late, great Warren Zevon. On tunes such as "Laundramatic" and "Bayou Brew," Black really loosens up and sounds like he's getting ready for a weekend of partying. Nice to hear that the old guy and his band, the Revue, have still got it.
---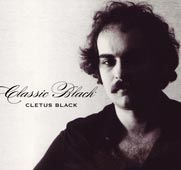 Classic Black: The Best of Cletus Black
2012
$18 (shipping included)
1. Baby Hi (Single Version)
2. Don't Push The River
3. BYO Blues (Remastered)
4. He's Got A Harley (Remastered)
5. Cocaine Trail
6. Depot Road (Live)
7. No Moon Night (Single Version)
8. Shuffle That Deck
9. It's Hard To Rock
10. Hold On Tight
11. I'm Ready
12. Woman Woman
13. Ocean Drive
14. Graveyard Shift
15. Clothesline Blues
16. Tennessee Baby (Alternate Version)
17. Creole Witch (Remastered)
18. Night Train (Alternate Mix)
19. Throwing Aces
All Songs Available for Immediate Download HERE
---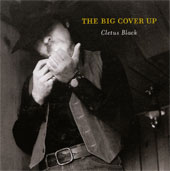 The Big Cover Up
2011
$12 (shipping included)
1. Long Black Veil
2. Play with Fire
3. Got My Mojo Working
4. House of the Rising Sun
5. Drinking Wine Spo Dee O Dee
6. Baby What You Want Me to Do
7. Love is a Rose
8. Knockin' on Heaven's Door
9. It Takes a Lot to Laugh, It Takes a Train to Cry
10. Two More Bottles of Wine
11. Believe to my Soul
12. After Midnight
---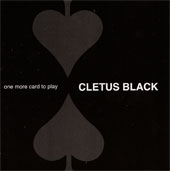 One More Card to Play
2010
$12 (shipping included)
1. Hold on Tight
2. Baby Hi
3. Ghost Ship
4. Behind the Ritual
5. One More Card to Play
6. Drew Us Kings
7. Don't Push the River
8. I See the Cycle Burn
9. I Find You Gone
10. Love is on the Fade
11. Where We Left Off
12. Straight to Baton Rouge
---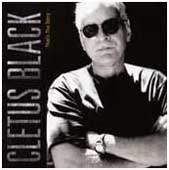 That's the Story
2008
$12 (shipping included)
1. Bringing it Back
2. Everyday Days
3. Tennesee Baby
4. When the Night Comes
5. This Thing for You
6. Woman Woman
7. Chains
8. Never Enough
9. Heavy and Blue
10. 50 Songs
11. Sanctified
12. That's the Story
PETER CHAKERIAN, COOL CLEVELAND MANAGING EDITOR
As a rock critic, I really hate to draw comparisons. That doesn't always stop me, but I digress…many things have stuck with me since I first heard local roots-rock iconoclast Cletus Black years ago. His sandpapery voice and emotional depth charges remind me of an alt-country Leonard Cohen, with toasty naked, whiskey-soaked shades of J.J. Cale at his edges. Black's songs come from a heart that's surely on its way to said color, lined with Springsteen flourishes and melancholy violets. His latest effort is a strong, rich tour de fource–the ubiquitous audio equivalent to French press coffee.
This new release features many of Black's "Review" band and opens (surprisingly enough) with a gritty cover of Cale's "Bring it Back"–which soars on producer Dave Morrison's mouth harp skills. Black's remaining 11 original tracks mine plebeian strength from brokenhearted blues. Cuts like "Heavy and Blue," "Never Enough" (with harpist Colin Dussault). "This Thing for You" and the threadbare "Sanctified" all offer varying degress of haunting imagery and stark raving ability. Black's one hell of a poet; I vaguely recall him being compared to film noir at one point in his career. With musicians like Tommy Rich (drums) and Greg Hurd (piano) backing him up, his songwriting feels far larger than
any big screen could hold. And much larger than local. — PC
SCENE MAGAZINE: 6/11/2008
This raspy-voiced singer-songwriter is one of the city's true hidden treasures. He's in fine form once again on this new album that finds him backed by many of the players from his live band, the Revue. The disc opens with a gritty cover of J.J. Cale's "Bringing it Back" that Black makes his own thanks in part to some fine harmonica work courtesy of Dave Morrison. The rest of the tracks are all originals, and it's a testament to Black's abilities as a songwriter that the album seamlessly flows together after the opening cover. Black alternately evokes the working-class rock of Springsteen ("Woman Woman") and the Gothic blues of Nick Cave ("Sanctified"). Guest spots from local heroes such as Colin Dussault, who adds harmonica to "Never Enough," drummer Tommy Rich, who's behind the kit on the same tune, and pianist Greg Hurd, who appears on "Tennessee Baby" and "Heavy and Blue," provide a nice touch, too. Produced by the aforementioned Morrison at his Treefort Studio, the album has a good live feel to it. — JN
---
The Black Book
2008
$12 (shipping included)
The book gathers all Cletus' original lyrics from the seven CD's released from 1996 to 2008. They are organized alphabetically by song title, as well as by first line. As a lyricist, Black stands out as he eschews the confessional and self-centered style favored by so many of his contemporaries, and instead creates songs that read like short stories. Character and mood are pre-eminent as Black creates vignettes that seem to have more in common with film noir. "Jesus told me to move to Virginia Beach…". "You're a hellhound sniffing on a cold dark trail…". "Working Homicide down in FLA…". Whether in a lyrical or narrative style, Black is a master at the compact diss and spare scenario.
---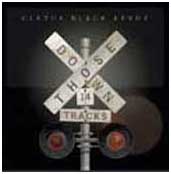 Down Those Tracks
2007
$12 (shipping included)
1. Loser Blues
2. Jump Jump Jump
3. Black Cat
4. Stranger Here
5. Virginia Beach
6. Lonely Ride
7. She's Leaving Town
8. Down Those Tracks
9. The Happy Song
10. Tombstone Town
11. Silence in the Nighttime
12. 90 Proof Blues
13. Walking Blues
14. Road to Nowhere
CLEVELAND FREE TIMES : 6/20/2007
In 1996, singer-Songwriter-guitarist Cletus Black, who'd long been performing around the area inconspicuously, decided it was time to get himself on the radar. He released his first CD Shades of Black, in 1996, which compiled his 1980s recordings and bround fans up to date. He's been a busy man since then and has just released his seventh post-comeback CD, Down Those Tracks. It's credited to the Cletus Black Revue and it showcases not only Black but also the musicians who've been his loyal compatriots for almost a decade. Guitarist Kevin McCarthy, who also plays as a solo act, and harmonica player Dave Morrison, who fronted Aces and Eights for years, share singing and songwriting duties. The band's shored up by the rhythm section of former Simpletons bassist Pat Walsh and drummer Rod Reisman, known from his years of playing with local rock-reggae stars First Light…
ANASTASIA PANTSIOS
The band's own material, including the suggestively sinister "Black Cat," the raw boogie blues of "Jump Jump Jump," a clanky, growling assault on televangelist Pat Robertson called "Virginia Beach," and the lilting harmonica-driven instrumental "The Happy Song," dovetails with the two clasic covers: an uptempo "Stranger Here" by Sonny Terry and "Brownie McGee" with its driving harmonica and guitar and a version of Robert Johnson's "Walking Blues," that acutally sounds more contemporary than "90 Proof Blues" the Black/Resiman composition that precedes it…The band's focus on its original material sets it apart from many bands on the local blues-rock curcuit…
---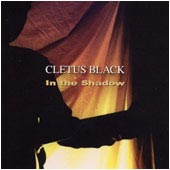 In The Shadow
2006

$12 (shipping included)
1. Stoney Ridge Creek
2. Long as You're Dancing
3. Hands That Heal
4. Rhythm of the Blues
5. Solitary Man
6. Sweet Bandits
7. Sailboat Song
8. Switch on the Darkness
9. Love to Love
10. Wheels That Turn
11. Get Outta Dodge
12. She's So Blue
13. Give It a Shot
14. Tupelo Honey
15. Roulette
PLAIN DEALER: 3/03/2006
You'd be hard pressed to find a more earnest effort than singer-songwriter Cletus Black's latest acoustic-based album "in the Shadow." With a baritone timbre easily drawing comparisons to Johnny Cash and a vocal delivery often straying into Bob Dylan's storytelling ways, the Cleveland-based artist finds his groove early and often. This compelling country album features a minimalist approach, which is traditional in spirit but sans the unnecessary nostalgia or syrup. Wearing a song like a cloak of honesty, Black turns Neil Diamond's already dim "Solitary Man" into his own admission of guilt. From the upbeat "Swtich on the Darkness" to the workingman blues feel of "Give It a Shot," this man in black doesn't feign tears-in-your-beer sentiment. If you want the real thing, experience "In the Shadow."
FREE TIMES: 3/08/2006
For the past decade, singer-songwriter Cletus Black has been one of the less heralded yet consistent artists on the local circuit. He's got a husky voice that at times recalls Americana guys like Steve Earle and Fred Eaglesmith, and In The Shadow, his seventh album, is yet another fine colleciton of original material (with covers of Neil Diamond's "Solitary Man" and Van Morrison's "Tupelo
Honey"" – Jeff Neisel
SCENE MAGAZINE: 4/05/2006
In the Shadow is where Cletus Black has been far too long. It's high time for this guy's traditional yet unique rock attitue to reach ears outside the Cleveland area. Maybe LeBron James can carry a few of Black's CDs with him on the road and sell them to the folks hounding him for autographs. On his sixth CD sine 1998, Black's songwriting is better than ever, from the bayou-flavored opener ("Stoney Ridge Creek") to the humourous tale of war-between-the-sheets" ("Get Out of Dodge) to the slam-bang finale ("Roulette")… Like stadium mustard, Cletus Black is a Cleveland product that deserves to to find many more consumers. – Steve Byrne
---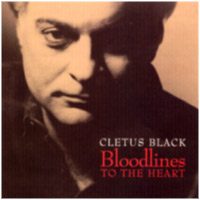 Bloodlines to the Heart
2003
$12 (shipping included)
1. Mr. Blues
2. Cocaine Trail
3. We Are Hiding
4. Revenge
5. Ocean Drive
6. Shuffle the Deck
7. Jacknife
8. Dead on Arrival
9. Cats and One-Eyed Jacks
10. Cold Blodded Love
11. Another Night
12. Sweet Revenge
CLEVELAND FREE TIMES
Cletus Black's music harks back to a generation of blues and country-informed folk-rockers who sprang from the loins of Bob Dylan. His rootsy eclecticism, storytelling lyrics, strong songwriting craft and rough-hewn voice have much in common with that seemingly bottomless pool of talented Texas singer-songwriters such as Guy Clark, Townes Van Zant and Tom Russell. His music would sound more at home in Austin than in his native Cleveland. Tracks like "Cocaine Trail" and "Revenge" have a brooding sense of foreboding that recalls Johnny Cash. In fact, a general darkness and last-call desperation pervades the entire disc that's contrasted effectively with spirited music that sonically suggests an indomitability in the face of life's reverses. Black…draws on an crop of talented veteran Cleveland players including blues guitarist Alan Greene, saxophonist Norm Tischler, vocalist Becky Boyd, harmonica Dave Morrison and violist Michael Dreyfuss to flesh out
his songs. — Anastasia Pantsios
SCENE MAGAZINE
Cletus Black is one of the most distinctive singer-songwriters in the area and — given his knack for lyrics — one whose reach beyond the region is way overdue. Bloodlines to the Heart builds on the strengths of Black's solid 2001 offering Black Ice, a disc abundant with hooks that established a variety of engaging moods and pictures. Black gets a lot of storytelling mileage out of the short, simple phrases from which he typically fashions his tunes. On Bloodlines, songs such as "Mr. Blues," "Cold Blooded Love," and especially "Dead on Arrival" all draw power from a less-is-more aesthetic. This set, while never dreary, is mostly dark; fittingly, a recurring Leonard Cohen influence is detectable on "We Are Hiding" and "Revenge." But for all the influences, Black is still his own man musically."
---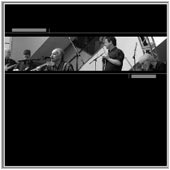 Not Too Blues
2002

$12 (shipping included)
1. Sweet Rosie
2. Green River
3. Let's Talk it Over
4. Graveyard Shift
5. This Girl Looks Alot Like You
6. Spoonful
7. Old Lumber
8. Nadine
9. Ride
10. Who Do You Love?
11. Rapid-Fire Love (live)
12. Not Too Blues
CLEVELAND FREE TIMES
Singer-songwriter Cletus Black put out his first album in 1979, but took a lengthy break afterward and didn't start recording again until 1997. Now, Black performs regularly, working the local coffeehouse and blues circuit, sometimes playing solo and sometimes with his band, the Revue. Produced by Donnie Iris and the Cruisers' drummer Tommy Rich, this album with the Revue was made with few overdubs; as a result, it has all the immediacy of a live recording. Throughout, the Revue plays with all the swagger of a tight bar band and Black's working-class ethos and gruff voice make him comparable to Fred Eaglesmith, the Canadian country-folk guy who sings affectionately about bluetick hounds and broken-down cars. Black draws from a similar well, and writes about working shit jobs ("Graveyard Shift") and hopping trains ("Ride"). Covers of Creedence Clearwater's "Green River", Chuck Berry's "Nadine" and Willie Dixon's "Spoonful" are underwhelming, but this is a solid effort from one of Cleveland's most talented singer-songwriters. – Jeff Niesel
SCENE MAGAZINE
The Cletus Black Revue has made what might be the best live album ever to come out of a studio in the Cleveland area. An oxymoron, you say? Oh yeah. Still, Not Too Blues sure has the feel of a live recording, with little overdubbing to re-create that onstage atmosphere. Black, one of Northeast Ohio's most prolific songwriters, wanted it that way. He.s always stressed that the Cletus Black Revue is a band, rather than a vehicle to push the four Cletus Black CDs that he's released since 1997. This proves it. Only 4 of the 12 numbers are Black compositions. Harmonica ace Dave Morrison contributes two tunes, while guitarist Kevin McCarthy and viola player Michael Dreyfuss have one each. – Steve Byrne
---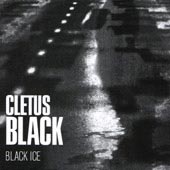 Black Ice
2001

$12 (shipping included)
1. Mumblin' to Myself
2. BYO Blues
3. Let it Go
4. Black Ice
5. Don't Want No Trouble
6. Creole Witch
7. Take it on Faith
8. He's Got a Harley
9. Carring Love Through
10. Calling for Love
11. Too Many Times
12. Holding My Own
"Black Ice" contains twelve original Cletus stories of life and love. Produced by Tommy Rich, it features the mandolin and slide guitar work of Bill
Lestock. Jennifer Lee adds some outstanding background vocals, and guitar man Kevin McCarthy's acoustic rhythms are heard throughout this album. Add some upright bass, cimbalom, harmonica, dobro, and trombone and you have a very earthy yet contemporary sound. Accessible roots rock.
TONIGHT MAGAZINE / December 31, 2001
BlackIce picked as one of the 10 best CD's for 2001
After a 15-year lay-off of recording, area mystery man Black is at it again
with a local who's who like guitarist Kevin McCarthy, drummer Tommy
Rich, bassist Dallas Coffee, harpist Dave Morrison, vocalist Jennifer Lee and a all-star roster of talent. Produced by Tommy Rich, the low key roots/blues mix of BLACK ICE was the best of a ton of Cleveland artists released this year.
CLEVELAND FREE TIMES / November 13, 2001
Cletus Black knows hooks. There are enough catchy phrases, tunes and choruses on Black Ice, the West Side singer/songwriter's fourth release, to invite a second listen. And thereafter, enough mood swings and peculiar personality to sustain a longer-term relationship. While traces of Waits, Cohen, Zevon and a shot of Buddy Holly are detectable in Black's writing, his own sense of power of simplicity prevails. "Take it on Faith" and ""Too Many Times" are gems of directness. If they pulled singles from albums, "He's Got a Harley" would be airplay-bound. Black's craft is extremely well-served by Tommy Rich's production, which borders on exquisite. While no one is specifically credited for the arrangements, someone should be applauded for the sensitivity shown to the material evident on virtually every track. Slide guitarist/mandolinist Bill Lestock, background vocalist Jennifer Lee and harmonica player Dave Morrison are standouts in a first-rate supporting cast. This is easily some of the best homegrown around. – Duane Verh
---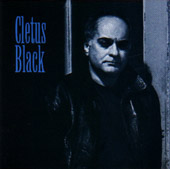 Cletus Black
1999

$12 (shipping included)
1. Bucket of Blues
2. Night Train
3. Don't Let the Chill Get You
4. No Moon Night
5. Hard Drinkin' Mama
6. I'm Testifyin'
7. Black Diamond
8. Rapid-Fire Love
9. With a Woman Who Rolls
10. Perfect Night for the Blues
11. Taken by Time (revisited)
12. I'm Ready
The self titled "Cletus Black" CD was released one year after "Back It Up." It contains twelve more original Cletus songs. This project has a bloozie-rock, live feel to it, and marks the addition of harmonica virtuoso Dave Morrison to the recording and also to Cletus' live band. Morrison cooks on "Night Train," "Bucket of Blues," "Taken By Time," and he jams with Mike Dreyfuss on "Hard Drinkin' Mama." Solid drum work by Nashville's Jimmy Clark keeps this disc rocking. The album was picked as one of the best of the year by the Cleveland Free Times.
CLEVELAND FREE TIMES / May 11, 1999
BlackIce picked as one of the 10 best CD's for 2001
BIG CITY CLUES JUNE/JULY 1999
Cleveland's lyrical poet, Cletus Black is back with his latest batch of rock'n blues ballads and stories of life. Stuck in Ohio with a Greenwich attitude and a backcountry outlook, Black is kickin' up some of the best talent around him to deliver his latest edicts. Throwin' down a basic acoustic and electric mix with hints of hot harp, steamin' viola, slick slide, and hearty percussion this effort moves with an identity that is all its own… Leading it off with "Bucket of Blues," Black kicks it around with bounce and flair. The haunting rhythms of "Night Train" are punchy, while other killer cuts like "No Moon Night" and "Perfect Night for the Blues" resonate with your mind long after hearing them. Catch the humor of cuts like "I'm Testifyin'" and "With A Woman Who Rolls." An Ohio original, Cletus Black is an elite wordsmith with a unique musical vision.. scope this… it's rockin' blues noir! – Mark A Cole
SCENE MAGAZINE/JUNE 1999
Cletus Black comes through with another dose of party-ready, no-fooling rock and roll with his self-titled album. From the opening of "Bucket of Blues," the album's first track, you know everything will be all right. Strains of John Hiatt, Delbert McClinton, Nils Lofgren and Bob Welch period Fleetwood Mac are detected on this release. Black mines the same vein as he did with last year's BACK IT UP but the harmonica playing of Dave Morrison makes CLETUS BLACK a bluesier experience, although everything remains strictly in the rock and roll fold. One possible exception is "Black Diamond," probably the disc's most interesting inclusion, with its Spanish guitar and tale of star-crossed love. This is a song that could easily have been pulled off by a country balladeer like Robert Earl Keen or Kevin Welch. In a decade when rock has lost much of its original reason for being, it's great to see someone like Black still making records that show people how to have a good time." – Steve Byrne
CHRONICLE TELEGRAM / MAY 7, 1999
Local singer/songwriter Cletus Black releases his second original CD less than a year after his critically-acclaimed Back It Up album. Smart move. Not only will Black attract listeners from the last record, he'll pick up a lot more from this smooth-sounding CD. Right from the start – "Bucket of Blues" and "Night Train" – Black and his band sound like they're performing in your living room while sipping down a few brews." – Steve Brown
CLEVELAND FREE TIMES / DECEMBER 29, 1999
A dozen gritty vignettes from a guitarist/vocalist/songwriter who dodges pigeonholes with this mix of blues, rock, and shades of country. Black delivers the lyrics from a place that hovers between singing and spoken-word, often pondering life's rougher edges but always offering brief glimmers of hope. The whole package comes across like some cosmic intersection of Delta blues, classic rock and R and B. He's surrounded here by a small army of able-bodied session players, including guitarists Allan Greene and Austin "Walkin' Cane" Charanghar, harpist Dave Morrison."– Jason Bracelin and John Bruening.
---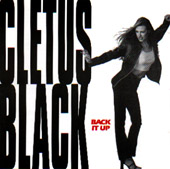 Back It Up
1996

$12 (shipping included)
1. Orbit Sleep
2. Throwing Aces
3. Clothesline Blues
4. Baby Please Don't Leave
5. Stage Left (Break a Leg)
6. Have You Seen Darla?
7. Depot Road
8. Blues Relief
9. Man on the Run
10. Midnight Pieces
11. Better Let Her Go
12. What Will I Do?
13. I'm Crying
Now known as "the babe CD," Back It Up marks the return of Cletus to his music. It contains twelve brand new original songs featuring "Clothesline Blues", "Orbit Sleep", and "Depot Road." "Stage Left" received worldwide air play. A raucous version of the Animals "I'm Crying" closes out the album. This CD introduces Michael Dreyfuss, former McKendree Spring co- founder, to Cletus' recording and to his live band. Local blues favorite Colin Dussault adds some tasty harmonica. Catchy stuff.
BIG CITY BLUES AUGUST/SEPTEMBER 1996
These grooves emanate from Cleveland, Ohio via the deep dark Paris
nightclubs and/or the dank alleys of New York. Fantastic writing and fanatical arrangements gives this a Velvet Underground feel. Raw, deep and powerful blues! Great backup and tighter than tight deliveries!
BIG CITY CLUES JUNE/JULY 1998
"As a songwriter, Black stands on the shoulders of giants…Every song has a distinctive hook and the lyrics are sufficiently mature and esoteric…after walking away from a recording career 14 years ago…with the release of Back it Up he is a candidate for comeback player of the year." – Mark A. Cole
---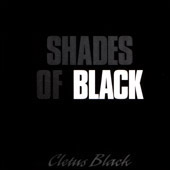 Shades of Black
1996

$12 (shipping included)
1. Put Down
2. Figures in the Shadows
3. Blues on Time
4. Broken Roads
5. Woman Woman
6. Blindfold
7. Tatoo Blues
8. Hard to Rock
9. Sweet Revenge
10. Taken by Time
11. Smokey Blue
12. My Old Lady
13. Pumping Iron
14. Black Hat and Tails
Shades of Black is a compilation of Cletus' 1980's recordings digitally remixed and remastered. "Pumping Iron" and "Smokey Blue" has former Dead Boy Jimmy Zero doing background vocals. "Blues on Time" and "Tattoo Blues" feature slide guitar work from Kim Simmonds (Savoy Brown). Fine piano playing by Chicago stalwart Phil Baron and lots of stinging guitar from Cleveland guitar master Alan Greene can be heard all over this disc. Timeless rock n roll.
JAM NITE NEWS 1996
"Cletus' calling card lists him as a songwriter first and foremost. And that is the feature of his album Shades of Black…. This all-original album showcases the capabilities of what true creativity can do with the songwriting process…. Cletus is good at balancing on the tightrope of instrumental ingenuity and lyrical creativity for each of the fourteen songs herein included…. Cletus does not portray himself to be anything other than what he is, a songwriter, a rock-n-roller and a first rate bandleader. Who says you can't have it all in music. With Shades of Black, there is 52 minutes of worthwhile music in the true tradition of rock and roll, honest and forthright, just like the man playing it." – Dave Hopkins
GREETINGS FROM THE NORTHCOAST
"I was pleasantly surprised to find a straight ahead rock-n-roll album spiced with some blues and country. Add a unique singing voice, and the resulting mix makes Shades of Black an interesting disc. Cletus Black's voice is a deep gritty instrument which in itself makes the disc worth a listen. He reminds me a lot of Eric Burdon…. Black has a knack for catchy mid-tempo rockers." – Kevin McCarthy
---