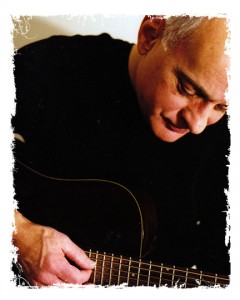 CLETUS BLACK (vocals/guitar) Award winning and critically acclaimed singer-songwriter Cletus Black has been writing, recording and performing his songs for nearly two decades. Whether playing solo, with members of his band or with his complete Revue, he brings a unique blend of rock, folk, blues, country and pop to the stage. Cletus performs a mix of original songs and cover songs.
---
The Cletus Black Revue

For over fifteen years, the five piece Cletus Black Revue band has been grabbing live audiences' attention with their unique blend of rock, blues, jazz and pop sound. Fronted by award winning and critically acclaimed guitarist/vocalist Cletus Black, the Revue is comprised of some of Greater Cleveland's most outstanding musicians. Drummer Rod Reisman (First Light) and bassist Pat Walsh (Simpletons) provide a tight driving rhythm section, while guitarist/vocalist Kevin McCarthy (The Cleveland Beat) and harp virtuoso Dave Morrison (Aces and Eights) add inspired heartfelt leads. The Cletus Black Revue has an exciting sound and style all their own.
They have played such venues as the Rock 'n Roll Hall of Fame, House of Blues, Wilbert's, the Beachland Ballroom, Legacy Village and the Agora. They've played many special events like the Cleveland Grand Prix, Painesville Party in the Park, Taste of Cleveland and the Clifton Arts Festival. The Revue has also performed on several live radio and TV shows.
---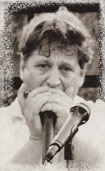 DAVE MORRISON (harmonica,vocals) Dave started playing with "The Revue" in 1999. He can be heard on the self-titled "Cletus Black" CD, and all of the Cletus Black albums since. Dave has been performing and teaching the harmonica professionally since 1973. From 1980 – 2000, Dave was the band leader of Cleveland based blues band "Aces and Eights". For the past 25 years, Dave has performed in a variety of settings. He has played clubs,concerts,and has appeared on radio and television.
---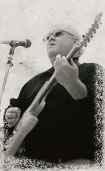 KEVIN McCARTHY (lead guitar, vocals) Kevin McCarthy first met Cletus Black in 1997 when both appeared on the AROARA Compliation CD project. Cletus invited Kevin to play keyboards on the "Back It Up" sessions in 1998. With the release of that CD, the first version of the Revue was formed, featuring Kevin on keyboards and Michael Dreyfuss on viola. By the time of the "Cletus Black" recording sessions in 1999, Kevin had taken over lead guitar duties with the Revue and the current lineup was solidified. His studio contributions on guitars and keyboards continues to this day.
Besides playing with the revue, Kevin keeps an active and varied schedule as a solo performer.
---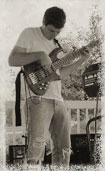 PAT WALSH (bass guitar) Pat Walsh has played with the Cletus Black Revue since 1998. Before joining the review, he has played in a variety of bands and has played throughout the U.S. including stops at the House of Blues in New Orleans, and the Las Vegas Luxor. Pat also showcased at the 1998 SXSW Music Conference in Austin, Texas.
---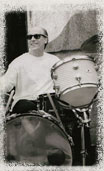 ROD REISMAN (drums) Rod Reisman, one of the most sought after drummers in Cleveland, has been playing with the Revue since 2001. Some of Rod's most notable endeavors have been with The Numbers Band, Buckeye Biscuit Band and Baby Sirloin. He was also the original drummer for Sextet Devo (yes that Devo). His talents have been displayed throughout the world with a tour of the Far East with the USO in 1975 and 1976, and stops at the Playboy Club and Disneyland. From 1984 to 1997 Rod had played with one of Cleveland's most popular bands First Light.
---
REVIEWS
"As a songwriter, Black stands on the shoulders of giants…Every song has a distinctive hook and lyrics are sufficiently mature and esoteric."
Steve Byrne, SCENE MAGAZINE
"His sandpapery voice and emotional depth charges remind me of an alt-country Leonard Cohen, with toasty-oaked, wiskey-soaked shades of J.J. Cale at his edges. Black's songs come from a heart that's surely on its way to said color, lined with Springsteen flourishes and melancholy violets…Black's one hell of a poet…And much larger than local."
Peter Chakerian, COOL CLEVELAND 
"Cletus Black is one of the most distinctive singer-songwriters in the area and-given his knack for lyrics-one whose reach is beyond the region is way overdue…Bloodlines to the Heart builds on the strengths of Black's solid 2001 offering Black Ice, a disc abundant with hooks that establish a variety of engaging moods and pictures. Black gets a lot of storytelling mileage out of the short, simple phrases from which he typically fashions his tunes."
Duane Verth, SCENE MAGAZINE
"Cletus Black's music harks back to a generation of blues and country-informed folk rockers who sprang from the loins of Bob Dylan. His roosty eclecticism, storytelling lyrics, strong song writing craft and tough-hewn voice have much in common with the seemingly bottomless pool of talented Texas singer-songwriters such as Guy Clark, Townes Van Zant and Tom Russell. His music would sound more at home in Austin than in his native Cleveland…"
Anastasia Pantsios, FREE TIMES MAGAZINE
"Cleveland's lyrical poet, cletus Black is back with his latest batch of rockin' blues ballads and stories of life. Stuck in Ohio with a Greenwich attitude and a backcountry outlook, Black is kickin' up some of the best talent around him to deliver his latest edicts…An Ohio original, Cletus Back is an elite wordsmith with a unique musical vision…scope this out…it's rockin' blues noir!"
Mark A Cole, BIG CITY BLUES MAGAZINE
"Black is one of the city's true hidden treasures."
Jeff Niesel, Music Editor SCENE/FREE TIMES MAGAZINE